Crews of Russian helicopters in the course of the training "Indestructible Brotherhood-2020" in the Republic of Belarus ensured the landing operation and delivery of humanitarian cargo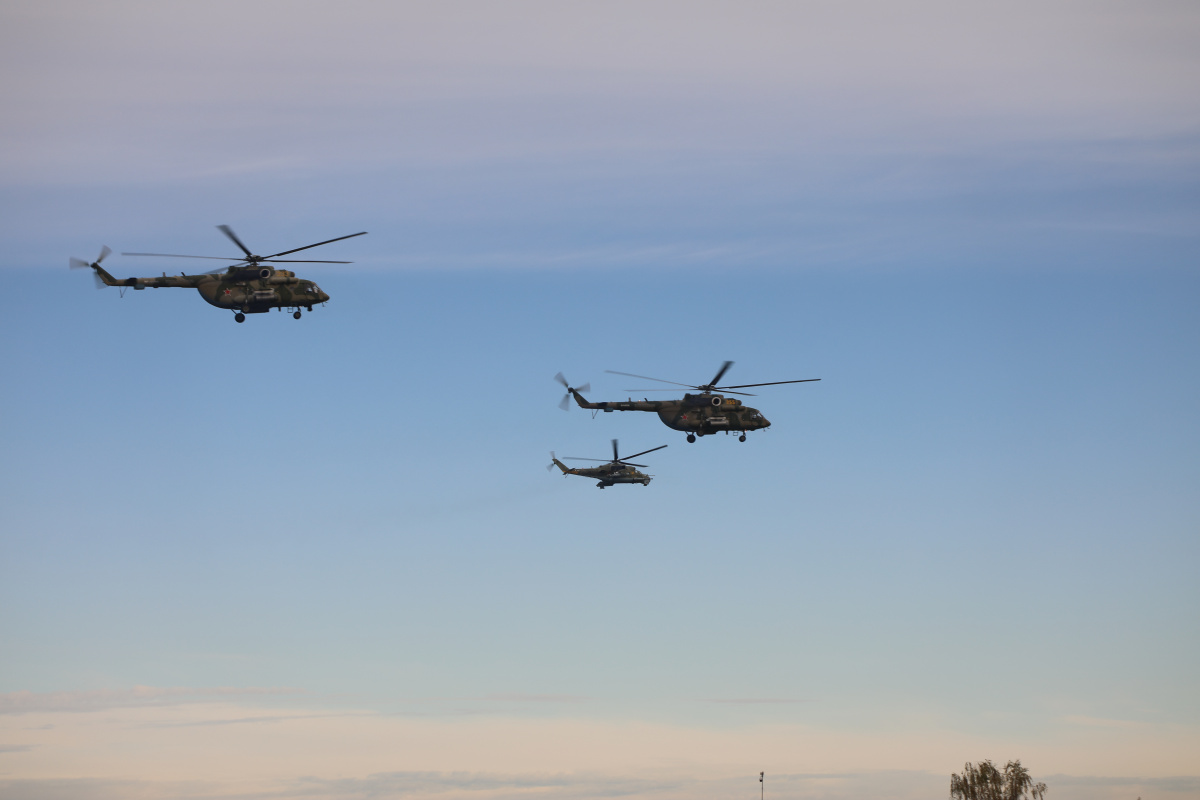 16.10.2020
The crews of the helicopters of the Central Military District of Russia Mi-8AMTSh "Terminator" ensured the landing operation and delivery of humanitarian cargo in the course of the first stage of the command and staff training of the Peacekeeping Forces of the Collective Security Treaty Organization "Indestructible Brotherhood-2020", which is taking place at the "Losvido" training ground in Vitebsk region of the Republic of Belarus.
In the course of practical actions, the helicopter crews delivered advanced reconnaissance groups to the area of the peacekeeping operation, as well as a humanitarian cargo with medicines.
Cover and fire support for the helicopters with paratroopers and humanitarian cargo were provided by a pair of Russian Mi-24 "Crocodile" attack helicopters, as well as Mi-8 transport-combat helicopters of the armed forces of the Republic of Belarus. The "Orlan-10" and "Takhyon-4" unmanned aerial systems were also involved in the practical episode.

The training under the charge of the Commander of the Special Operations Forces of the Armed Forces of the Republic of Belarus, Major General Vadim Denisenko, involves the contingents of the CSTO member states, operational groups of the CSTO Joint Staff and the CSTO Secretariat, police (militia) forces and rescue sections. The total number of training participants is more than 900 people, more than 120 units of military and special equipment are also involved, including strike drones, two Mi-8AMTSh helicopters and two Mi-24 attack helicopters of the Central Military District of the Armed Forces of the Russian Federation.
The organization and conduct of these events is carried out in accordance with the Regulations on the procedure for preparing and conducting joint trainings in the CSTO format, approved by the Decision of the CSTO Collective Security Council of November 28, 2019.
All planned activities of the training are carried out in compliance with strict public health and epidemiological measures aimed at preventing the spread of coronavirus infection.
Photo and video are provided by the press service of the Central Military District of Russia
Go back