The second stage of trainings "Echelon-2021," "Search-2021" and "Interaction-2021" started in the Republic of Tajikistan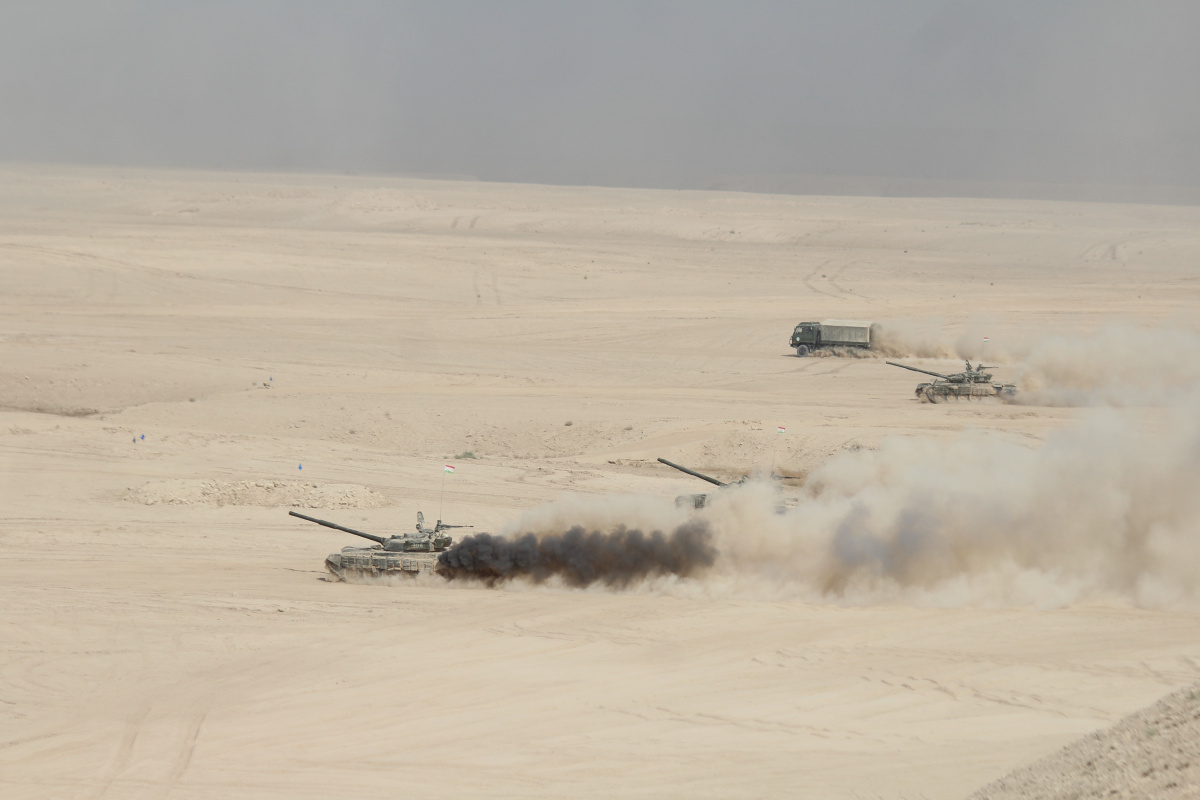 22.10.2021
22 октября с.г. On October 22, this year, the Republic of Tajikistan started the second stage of trainings "Echelon-2021", "Search-2021" and "Interaction-2021" conducted within the framework of operational-strategic training "Combat Brotherhood-2021". The three trainings are conducted simultaneously, in difficult mountain-desert terrain and in a single operational environment.
The "Echelon-2021" assets of Acquisition, Technology, and Logistics of the CSTO Troops (Collective Forces) have begun the practical implementation the issues of Acquisition, Technology, and Logistics for formations of the Collective Rapid Reaction Forces (CRRF) in the course of the joint operation. In the field, they are equipping a mass refueling area, a collection point for damaged vehicles and a field depot for rocket and artillery weapons. They organize repair of malfunctioning weapons and equipment. Provide technical assistance on the routes of advancement of formations. They bake bread. Using a comprehensive cleaning station, they provide the troops with potable water and washing of personnel.
Participants in a special training with the assets of reconnaissance "Search-2021" practiced the issues of reconnaissance, organization of work at the post of command, collection, processing and analysis of surveillance information. They organize the exchange of surveillance information between points and control groups at the command post, ensure the fire defeat of uncovered objects. In the course of the second stage of the training, special (military) reconnaissance forces will also conduct a special operation to seize and destroy important objects of a simulated enemy.
The CSTO Collective Rapid Reaction Forces will conduct a joint operation to contain a border armed conflict during the second stage of the "Interaction-2021" training. In particular, they will practice airstrikes on the militants' base areas, blockade and "mopping up" of a populated area, as well as the evacuation of civilians. Taking control of the state border is one of the main goals of the joint operation.
The main objectives of the trainings are to improve the management system of CSTO Troops (Collective Forces), improve the coordination of command bodies and units, as well as to achieve interoperability of the assets of the collective security system of the Organization.
Military contingents of the Organization's member States, consisting of mobile formations and military units of permanent readiness equipped with modern weapons and military (special) equipment, task forces of the CSTO Joint Staff and the CSTO Secretariat, special-purpose force formations from special units of internal affairs (police) bodies, security agencies and special services, and authorized bodies for the prevention and management of emergency situations are taking part in the training. In total, there are 4 thousand people and more than 500 units of equipment, including planes L-39, Su-25, Su-24MR, Il-76TD, helicopters Mi-8 and Mi-24.
__________________________________________________________________
The Joint Press Center of the CSTO training "Combat Brotherhood-2021"
(The Republic of Tajikistan, Kharbmaidon training range)
Go back