Forces and means of reconnaissance of the armed forces of the CSTO member states are preparing for the joint operational-strategic training - "Combat Brotherhood-2019" ("Boevoe Bratstvo-2019")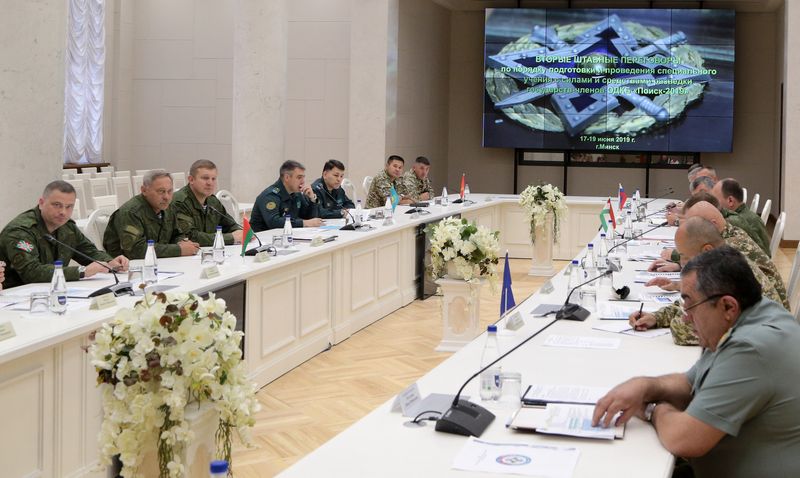 19.06.2019
In accordance with the Plan of the joint trainig of the governing bodies and the forces and means of the collective security system of the Collective Security Treaty Organization for 2019 from June 17 to 19 of this year the second headquarters negotiations on the preparation and conduct of the special trainig named "Search-2019" ("Poisk-2019") with the forces and reconnaissance forces of the CSTO member states, held as part of the operational-strategic trainig "Combat Brotherhood-2019" ("Boevoe Bratstvo-2019"), took place in Minsk.
The delegations of defense departments from the Republic of Armenia, the Republic of Belarus, the Republic of Kazakhstan, the Kyrgyz Republic, the Russian Federation, the Republic of Tajikistan and representatives of the CSTO Joint Staff took part in the negotiations.
In the course of the negotiations, the idea of the training and the procedure for its conduct, the composition of the leadership, the joint management body and intelligence forces and means of the CSTO member states, as well as the issues of comprehensive support of the training were reviewed and agreed

The participants of the staff talks conducted a reconnaissance of the areas for the upcoming trainigs. During the reconnaissance they discussed the course of practical actions by contingents, equipment in field conditions for command centers, storage sites for ammunition, weapons, military and special equipment.
In the course of the special training - "Search-2019 ("Poisk-2019") - questions of organizing and conducting reconnaissance by forces and means of intelligence agencies of the CSTO member states will be worked out in order to localize the border conflict in the East European region of the collective security of the Organization.
We remind that last year a similar training was conducted in the Central Asian region. The final stage was attended by the leaders of the military intelligence services of all six CSTO member states. Practical actions were accompanied by landing, live firing and combat use of aircraft, artillery, anti-aircraft installations and other military and special equipment.