Chairman of the CSTO CSC, the President of the Republic of Belarus, Alexander Lukashenko meets with participants of the CSTO Parliamentary Assembly Council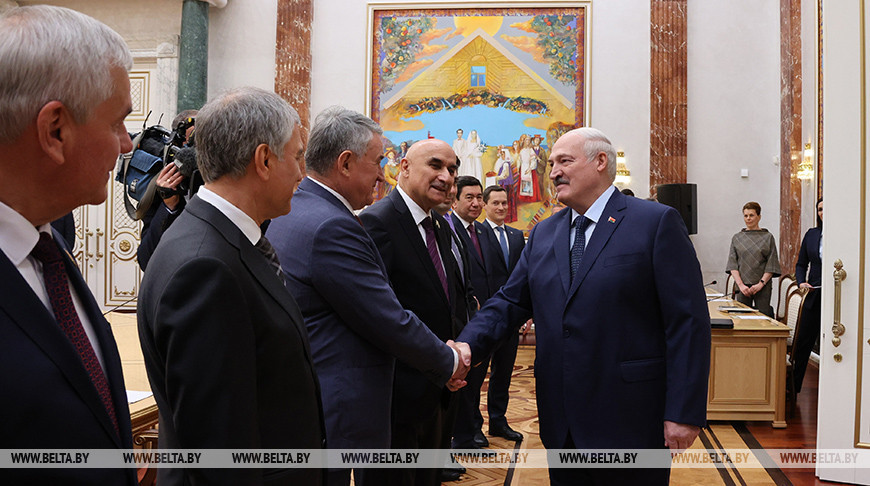 18.05.2023
According to the BelTA Belarusian news agency, Chairman of the CSTO CSC, the President of the Republic of Belarus, Alexander Lukashenko meets with participants of the meeting of the Council of the CSTO Parliamentary Assembly in Minsk, which is also attended by the CSTO Secretary General Imangali Tasmagambetov.

"I am sure that the motto of the Belarusian presidency "Through solidarity and cooperation to peace and security" meets the interests of all members of the CSTO.
The unity of our ranks cannot be overlooked in this regard. The aim of Belarus' presidency is to make the necessary efforts to strengthen the unity of the CSTO member states," the Chairman of the CSTO Collective Security Council, Alexander Lukashenko said.
- We see the prospects of strengthening the organization, ensuring security and stability in its area of responsibility in the removal of the existing contradictions.
https://www.belta.by/president/view/lukashenko-podcherkivaet-rol-edinstva-v-odkb-dlja-sohranenija-suvereniteta-i-nezavisimosti-ee-567146-2023/
The CSTO Press Secretary Vladimir Zaynetdinov
Go back