The CSTO Secretary General had a meeting with the Ambassador of the Republic of Tajikistan to Russia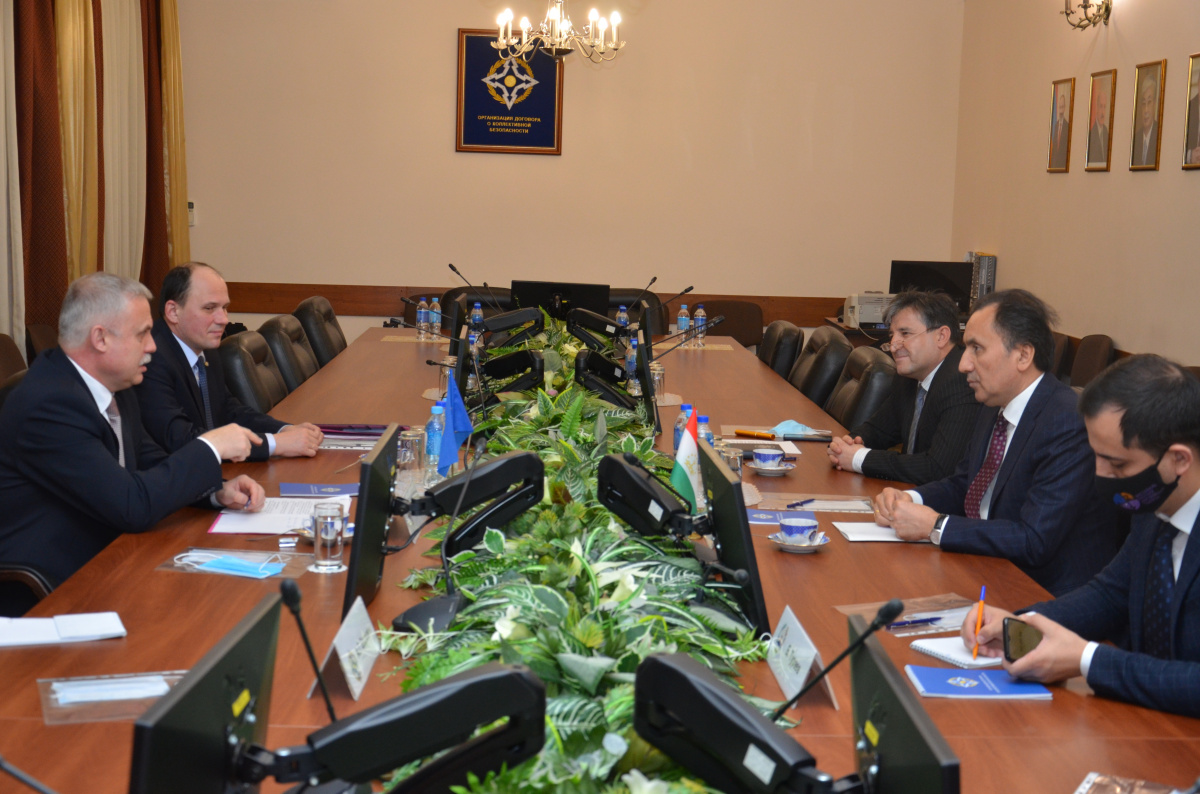 15.12.2020
On December 15, 2020, the Secretariat of the Collective Security Treaty Organization hosted a meeting between the CSTO Secretary General Stanislav Zas and the Ambassador Extraordinary and Plenipotentiary of the Republic of Tajikistan to the Russian Federation Imomuddin Sattorov.
The meeting, which took place on the initiative of the Tajik side, was held in a business-friendly atmosphere.
The parties discussed the implementation of the Tajikistan's priorities in the course of its chairmanship in the CSTO in 2020-2021 and exchanged views on topical issues of mutual interest.
Stanislav Zas informed Imomuddin Sattorov that the CSTO Secretariat was preparing an appropriate Plan for the Implementation of the Decisions of the CSC CSTO session and the Priorities of the Republic of Tajikistan, which would soon be included in the agenda of the meeting of the Organization's Permanent Council for approval. After that, the document would be submitted for approval to the Chairman of the CSTO Collective Security Council, the President of the Republic of Tajikistan Emomali Rahmon.
The CSTO Secretary General noted the importance of the priorities of the Tajik side for the activities of the CSTO, which affect political, military, military-technical cooperation and interaction in the field of countering challenges and threats.
The Ambassador of the Republic of Tajikistan informed Stanislav Zas about the situation on the Tajik-Afghan border, which, in his opinion, was difficult, but completely controlled by the Tajik security forces.
The parties agreed to further maintenance of contacts.
___________________________________________________
The CSTO Press Secretary Vladimir Zaynetdinov
+7-495-795-27-10
+7-495-621-33-23-tel/fax
E-mail: odkb-pressa@gov.ru