The CSTO Secretary General Stanislav Zas discussed cooperation in the military-political sphere with the Minister of Defense of the Republic of Serbia Aleksandar Vulin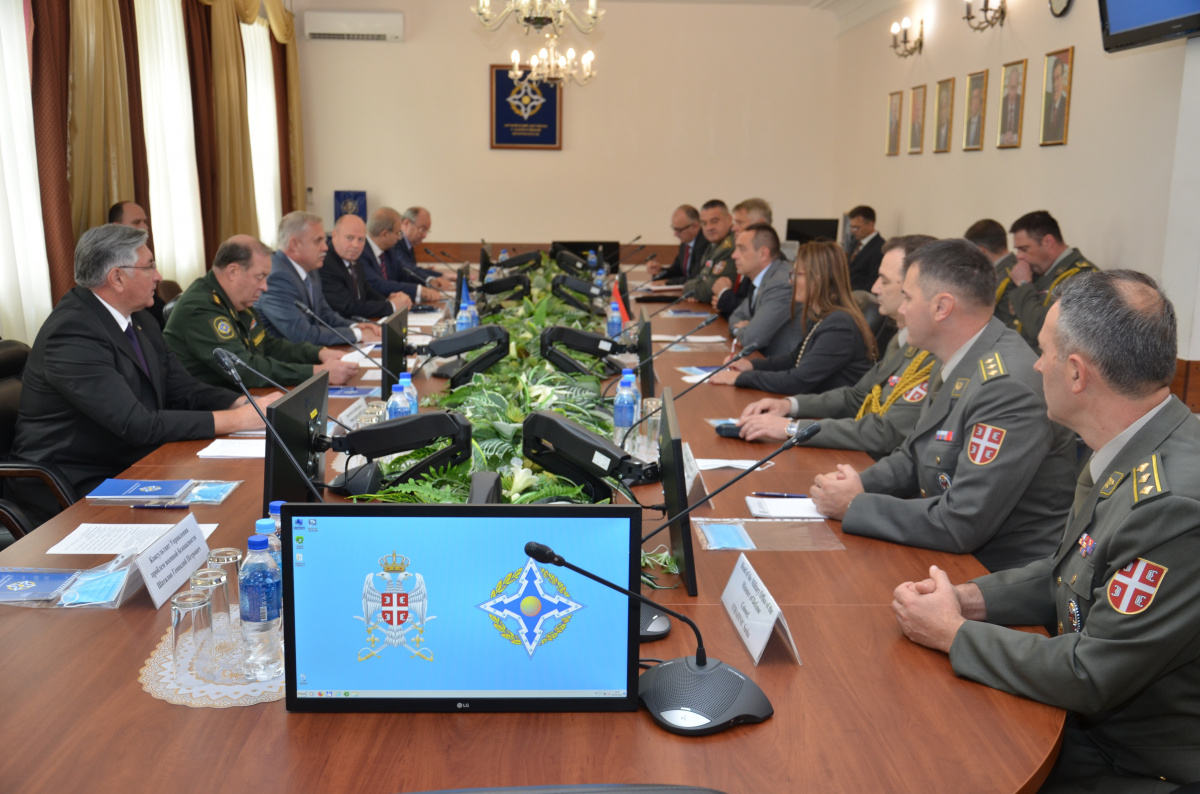 05.09.2020
On September 5, 2020, the CSTO Secretariat (Moscow) hosted a working meeting between the CSTO Secretary General Stanislav Zas and the Minister of Defense of the Republic of Serbia Aleksandar Vulin.
It was also attended by the Chief of the CSTO Joint Staff Colonel-General Anatoly Sidorov, Ambassador Extraordinary and Plenipotentiary of the Republic of Serbia to the Russian Federation Miroslav Lazanski, other officials of the Ministry of Defense of Serbia and the CSTO Secretariat.
Stanislav Zas noted with satisfaction that the development of relations between the CSTO and Serbia shows their growing role in strengthening European security. "The scale and direction of our interaction in recent years shows that cooperation between the CSTO and the Republic of Serbia is becoming one of the most important areas of activity of our Organization, which in the future can transform into a qualitatively new partnership," the CSTO Secretary General said.
In the course of the meeting, the parties expressed concern over the difficult military-political situation in Eastern Europe, as well as the high activity of extremist and terrorist groups in Central Asia.
It was noted that in this situation, the ability to quickly respond to crises, as well as any aggressive actions, is of decisive importance in ensuring the military security of the CSTO member states, as well as friendly countries.
The Serbian Defense Minister stressed the desire to develop cooperation with the CSTO in the field of peacekeeping, training military personnel, as well as youth policy. "We attach great importance to the participation of Serbian military personnel in events both within the framework of the CSTO and on a bilateral basis with the member states of the Organization," Stanislav Zas said.
The parties discussed the participation of representatives of the Republic of Serbia in the command-staff training with the CSTO Peacekeeping Forces "Indestructible Brotherhood-2020" and expressed their readiness to continue the practice of inviting Serbian servicemen to joint training events within the CSTO.
An important result of the meeting was the confirmation of mutual interest in strengthening long-term relations between the CSTO and Serbia.
At the end of the meeting, the CSTO Secretary General expressed his gratitude to the Minister of Defense of the Republic of Serbia and the entire Serbian people for the preservation of historical monuments and memorials, as well as the sacred memory of the heroes of the Great Patriotic War and the feat of our peoples in the victory over fascism.
_________________________________________________________
The CSTO Press Secretary Vladimir Zaynetdinov
+7-495-795-27-10
+7-495-621-33-23-tel/fax
e-mail: odkb-pressa@gov.ru