The CSTO Secretary General had a meeting with the Deputy Prime Minister - Minister of Foreign Affairs of the Republic of Kazakhstan Mukhtar Tleuberdi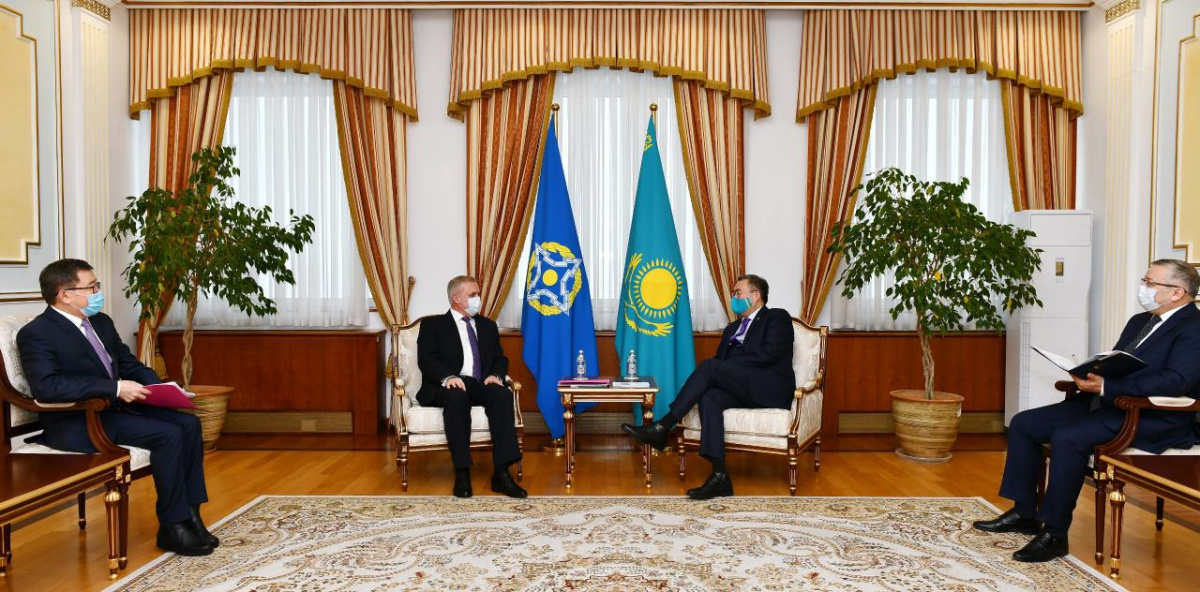 10.03.2021
On March 10, this year, in the Kazakh capital Nur-Sultan, the Secretary General of the Collective Security Treaty Organization Stanislav Zas met with the Deputy Prime Minister - Minister of Foreign Affairs of the Republic of Kazakhstan Mukhtar Tleuberdi.
The parties have discussed the military-political situation in the Central Asian region of collective security and the implementation of the Action Plan for the implementation of the decisions of the CSTO CSC session on December 2, 2020, and the priorities proposed by the Tajik side for the period of the Tajikistan's chairmanship in the Organization in 2021.
One of the important issues at the meeting, which were discussed by the CSTO Secretary General and the Head of the Kazakh Foreign Ministry, were the implementation of the initiative of the President of the Republic of Kazakhstan on the establishment of a new institution - the Special Representative of the CSTO Secretary General for peacekeeping in the rank of CSTO Deputy Secretary General and holding in May of this year a meeting of the CSTO Council of Foreign Ministers. It was one of the main issues of the meeting.
The Secretary General informed about the preparation of the draft Action Plan dedicated to the 30th anniversary of the signing of the Collective Security Treaty and the 20th anniversary of the CSTO (to be celebrated in May 2022). The document is currently considered by the Permanent Council of the Organization and is aimed at domestic coordination.
In the course of the meeting, Mukhtar Tleuberdi and Stanislav Zas also exchanged views on the formation of a list of possible candidates for the status of an Observer at the CSTO and a CSTO Partner. For these purposes, consultations of the CSTO deputy foreign ministers in charge of security issues in the Eurasian and Euro-Atlantic spaces are scheduled in early April.
_________________________________________________________
The CSTO Press Secretary Vladimir Zaynetdinov
+7-495-795-27-10
+7-495-621-33-23-tel/fax