Bishkek hosted a meeting of the Minister of Foreign Affairs of the Kyrgyz Republic Ruslan Kazakbaev with the Secretary General of the CSTO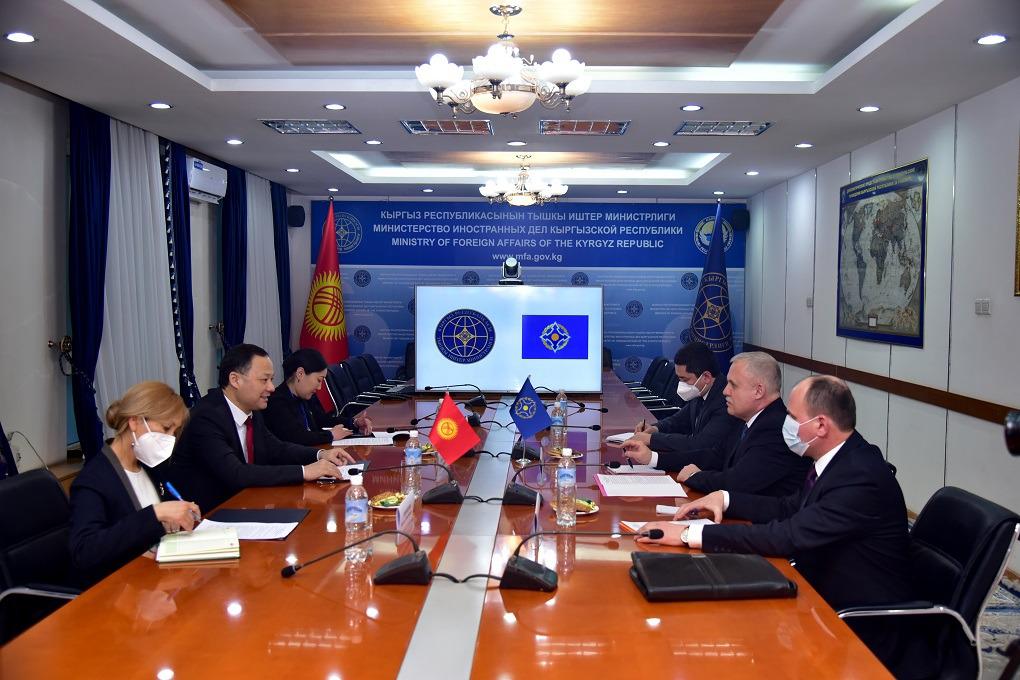 27.01.2021
On January 27, 2021, in Bishkek, the Secretary General of the Collective Security Treaty Organization Stanislav Zas had a meeting with the Minister of Foreign Affairs of the Kyrgyz Republic Ruslan Kazakbaev. S. Zas arrived in the Kyrgyz capital to participate in the inauguration ceremony of the President of the Kyrgyz Republic S. Japarov.
In the course of the meeting, an exchange of views took place on issues of further strengthening the collective security system. The parties discussed the priority areas for further cooperation in the field of regional security.
The Secretary General informed the Kyrgyz Foreign Minister about the current activities of the CSTO and the planned work to implement the decisions of the December (2020) session of the Collective Security Council. Stanislav Zas emphasized the important role of the Kyrgyz Republic in the CSTO activities. "I am confident that the Kyrgyz Republic will continue to make its significant contribution to efforts to increase the effectiveness of the Organization's activities and increase its international authority. The Kyrgyz side makes a significant contribution to ensuring the effective functioning of the mechanism of foreign policy coordination," the CSTO Secretary General Stanislav Zas said.
In his turn, Ruslan Kazakbaev expressed interest in effective and mutually beneficial cooperation of the Kyrgyz Republic within the CSTO in all areas that meet the interests of all parties.
______________________________________________________________________
The CSTO Press Secretary Vladimir Zaynetdinov
+7-495-795-27-10
+7-495-621-33-23-тел
E-mail: odkb-pressa@gov.ru