The Speakers of the Parliaments of the CSTO member states adopted an Address to the Parliaments of the Council of Europe member states on the occasion of the 75th anniversary of the Great Victory over Nazism in the World War II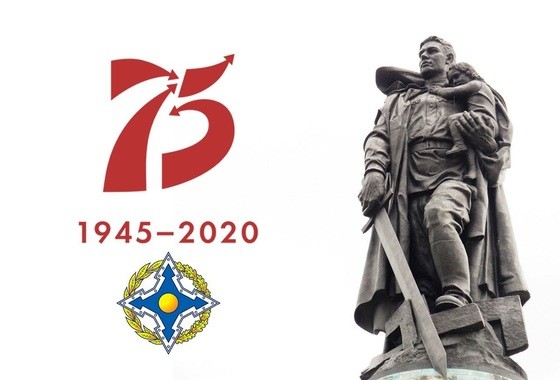 08.05.2020
ADDRESS
of the Parliamentary Assembly
of the Collective Security Treaty Organization
to the Parliaments of the Council of Europe member states
on the occasion of the 75th anniversary
of the Great Victory over Nazism in the World War II
In 2020, the peoples of the world celebrate the 75th anniversary of the Great Victory over Nazism in the World War II. In the CSTO member states, this is a special date in memory of the Great Victory in the Great Patriotic War of the peoples of the Soviet Union, whose contribution became decisive in the outcome of the entire Second World War. The feat in a war that claimed the lives of more than twenty-seven million sons and daughters of our peoples will forever remain in the memory of generations.
More than one million of our soldiers gave their lives, freeing the countries of Europe from Nazi enslavement. Numerous military burials, memorials, monuments, steles, obelisks in the territories of modern European countries keep the memory of the highest example of heroism and self-sacrifice of representatives of all our peoples, regardless of their nationality, citizenship and religion. Understatement of the significance of their feat is unacceptable.
Remaining irredeemable to the fallen soldiers in the fight against Nazism and its victims, based on the principles of protecting historical truth, the provisions of international legal acts adopted following the Second World War, we appeal to the parliaments of the member states of the Council of Europe to take measures at the legislative level:
– to counteract the revival and promotion of Nazism and its manifestations in modern Europe;
- to protect the historical truth about the Second World War, to suppress attempts to revise its results, to understate the decisive role of the peoples of the Soviet Union in the Great Victory;
- to prevent desecration of the graves of participants of the war against Nazism, desecration of military burial places, vandalism against monuments to Soviet soldiers-liberators, prosecution of veterans, trampling the honor of those who died and were tortured to death concentration camps;
- to stop any attempts to justify the Nazis and their accomplices who committed the most serious crimes upon the Second World War, the actions of their followers, the denial or distortion of the decisions of the International Military Tribunal for the trial and punishment of the main war criminals of the European Axis powers.
Our common duty is to keep the memory of the Great Victory, which unites all the nations that defeated Nazism together, to pay tribute of those without whom the Great Victory would have been impossible, who gave their lives in the name of the freedom of peoples, for the sake of our future.
Consolidation of the entire international community is crucial to effectively counter the resurgence of Nazism.
Go back