The CSTO Secretary General spoke at the eighth meeting of the Secretaries of the Security Councils of the CIS member states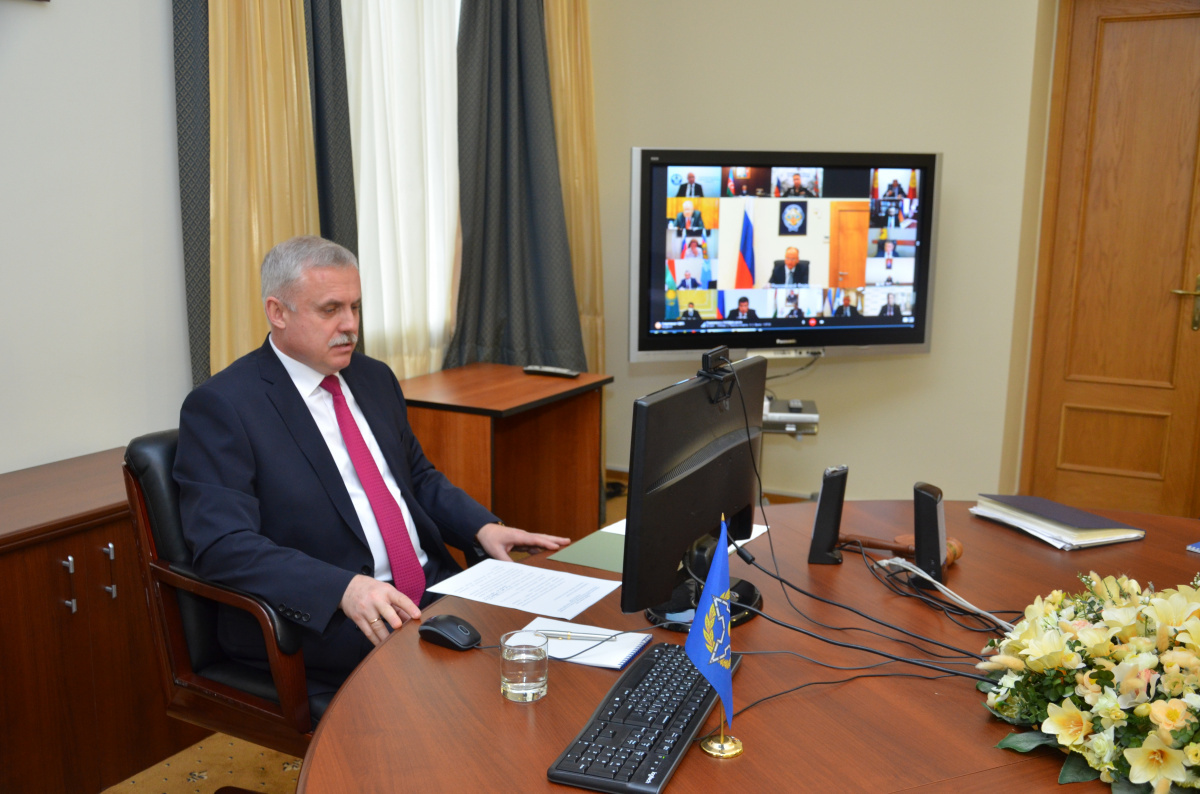 18.11.2020
On November 18, this year, the CSTO Secretary General Stanislav Zas took part in the eighth meeting of the Secretaries of Security Councils of the Commonwealth of Independent States member states, which was held via videoconferencing.
In his speech, he said that at present, the world community was experiencing a critical shortage of trust and stability. "And this is one of the main characteristics of our time. This is taking place in the context of an intensification of the struggle for world resources and markets, the dismantling of the international arms control system that has developed in recent decades, the devaluation of international law and generally recognized norms. As a result, we are witnessing the growth of armed conflicts, massive illegal actions, manifestations of terrorism," Stanislav Zas noted.
He drew the attention of the meeting participants that the dynamics of the development of the situation in the CSTO collective security region determined the need for the constant development of mechanisms of interstate interaction in the direction of countering modern challenges and threats.
"The problems caused by the pandemic, which degraded the level of international cooperation in the field of security, ultimately affected the effectiveness of measures to counter modern challenges and threats, incl. terrorism, - Stanislav Zas said. - The deterioration of the economic sphere and the fall of living standards of millions of citizens around the planet due to quarantine measures during the period of coronavirus infection create additional opportunities to recruit new members for criminal and terrorist organizations, using various modern information and communication technologies."
In his speech, he drew attention to the fact that the blurring of the lines between physical space and virtual reality, the expansion of the use of the "artificial intelligence" technology led to the emergence of new cyber threats affecting the state of protection of the population, society and the state." In his opinion, at the same time, the transfer of public administration, business and private life to the digital sphere in the context of a pandemic caused a noticeable increase in crime in the field of information and communication technologies.
Stanislav Zas supported the idea of ​​synchronizing anti-terrorist measures implemented in the CIS, the CSTO and the SCO format, expressed by the Minister of Foreign Affairs of the Russian Federation Sergey Lavrov at the meeting of the CSTO Ministerial Council in May, 2020. "Now we are collecting proposals on the practical content of this process," the CSTO Secretary General said.
Summing up, Stanislav Zas said that in the current conditions, the activities of the CSTO were focused on improving the mechanisms for ensuring collective security, taking into account modern realities and projected prospects for the development of the international situation.
He expressed confidence that the next meeting of the Secretaries of the CIS Security Councils would make a significant contribution to solving the problems of strengthening security in the Eurasian region.
_________________________________________________________
The CSTO Press Secretary Vladimir Zaynetdinov
+7-495-795-27-10
+7-495-621-33-23-tel/fax
E-mail: odkb-pressa@gov.ru
Go back