The CSTO Secretary General Stanislav Zas met with the Head of the CIS Anti-Terrorism Center Andrei Novikov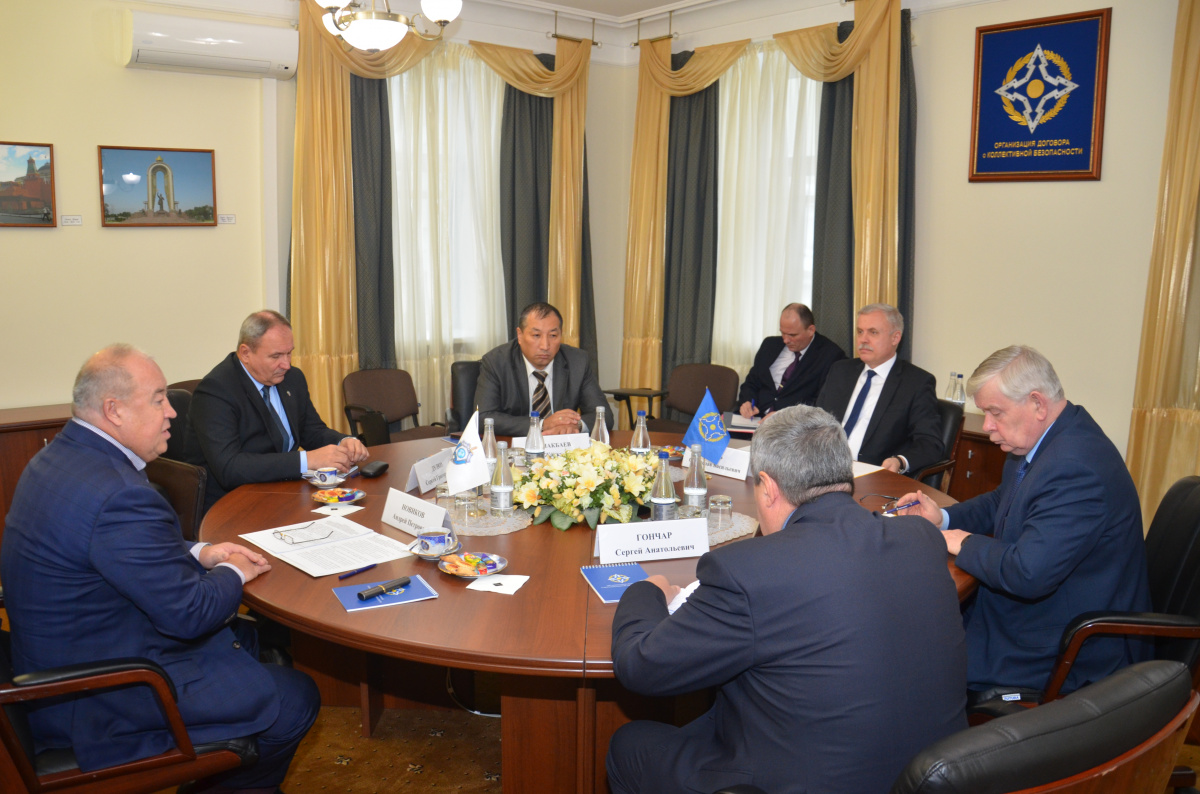 29.01.2020
January 29, 2020, the CSTO Secretariat hosted a meeting between the CSTO Secretary General Stanislav Zas and the Head of the Anti-Terrorism Center of the Commonwealth of Independent States Andrei Novikov. The meeting was attended by Deputy Secretary General Valery Semerikov and Deputy Head of the CIS ATC - representative of the Council of Ministers of Defense of the CIS member states Sergey Dudko.
Stanislav Zas made a number of proposals on practical cooperation in the fight against terrorism. "We have signed a Memorandum of Cooperation between the CSTO Secretariat and the CIS ATC, under which we can carry out our interaction. In particular, we are interested in the participation of representatives of the CIS ATC in the exercises of special forces formations included in the CSTO Collective Rapid Reaction Forces, " said the CSTO Secretary General.
Andrei Novikov, in turn, noted that the CIS ATC coordinates the search for criminals put on the wanted list for crimes of a terrorist and extremist nature, there are more than 10,000 of them in the ATC database, more than 5,000 of them are terrorist fighters who participated in military operations as part of international terrorist organizations outside the Commonwealth countries.
"We are actively cooperating with Interpol, the EAG, and the SCO RATS, and in 2018 we signed a Memorandum of Understanding with the UN Counter-Terrorism Directorate," said the Head of the CIS ATC. He also expressed interest in attracting the military potential of the CSTO for use in anti-terrorist events held through CIS ATC.
"I believe that there is a need to develop cooperation between the military of the CSTO member states and the special forces of law enforcement agencies and special services of the countries participating in the Commonwealth during our annual CIS trainings, - "Anti-error, "Andrei Novikov expressed his opinion.
Also during the meeting, the issue of forming a Unified List of organizations recognized as terrorist in the CSTO member states was discussed.
__________________________________________
The CSTO Press Secretary Vladimir Zaynetdinov
+7495-795-27-10,
+7495-621-33-23-tel/fax
Go back