The CAR CRDF are tasked with "liquidation" of illegal armed groups as part of "Rubezh-2022" training in the Republic of Tajikistan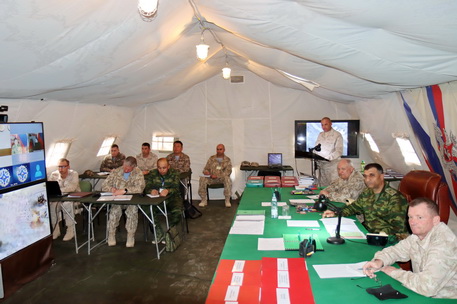 18.10.2022
On October 18 of this year, as part of the joint training "Rubezh-2022" at the "Harbmaidon" range, the decision to conduct a joint operation was approved at the CAR CRDF command post.

Major General Abdukhoshim Gulomzoda, the Deputy Minister of Defense of the Republic of Tajikistan, Major General Viktor Lisovsky, the Deputy Chief of the CSTO Joint Staff, and representatives of defense ministries of the CSTO member states participated in the event.

Colonel Yevgeny Okhrimenko, commander of the CAR CRDF, reported on the decision to conduct joint operations, which was approved by the head of the training.

According to the legend of the training, illegal armed formations crossed the state border of a CSTO member state and seized border settlements. As part of the first stage of the training, an operational deployment of the CAR CRDF, which is tasked with eliminating illegal armed formations and restoring the situation along the state border, was carried out.
The CAR CRDF units have begun their missions in a difficult operational environment and in mountainous and desert terrain.

Military contingents of the member states of the Central Asian region and task forces from the CSTO Joint Staff and the CSTO Secretariat are taking part in practical operations at the "Harbmaidon" training range. The core of the Russian contingent consists of servicemen of the Central Military District from the 201st Military Base. The total number of the training participants is about 1,000 men and more than 300 pieces of military and special equipment, including aircraft, helicopters and strike drones.

______________________________________


Joint press center of the CSTO trainings
Go back