Aleinik: NATO will sooner or later realize the need to develop contacts with the CSTO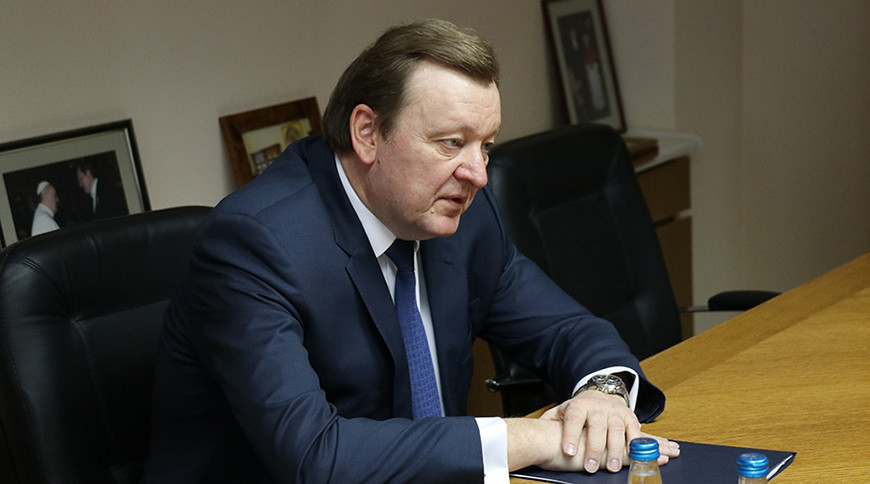 10.02.2022
February 9 /BELTA/. NATO will sooner or later come to the need to develop contacts with the CSTO. Belarusian Deputy Foreign Minister Sergei Aleinik expressed this confidence in his address to the participants of the conference "Collective Security in a New Era: the CSTO Experience and Prospects", which is taking place today in Moscow in the "Valdai" International Discussion Club with the support of the Russian Foreign Ministry.
The Deputy Foreign Minister's address was read by the Belarus permanent and plenipotentiary representative to the CSTO Vyacheslav Remenchik. "The CSTO is always open for dialogue, which cannot be said about NATO, which still avoids dialogue with our organization," the Deputy Foreign Minister of the Republic of Belarus said. - There has not been any distinctive reaction from the alliance to the open appeal of the foreign ministers to the heads of the foreign ministries of the NATO member States, made in 2019. This is a flawed logic, which does not contribute to security in the region. I am sure that sooner or later the alliance will see the need to develop contacts with the CSTO, whose role and significance in ensuring security in the Eurasian space is steadily growing.
"Assistance in the normalization of the situation in the Republic of Kazakhstan has become a vivid example, demonstrating to the world our solidarity in the face of modern challenges and threats and the significant capabilities of the CSTO, its peacekeeping capacity, the ability and willingness to respond quickly and effectively to crisis situations," Sergei Aleinik stressed.
He said that next week the meeting of the UN Security Council would be dedicated to interaction between the CSTO and the United Nations. "It is important that the detailed information with assessments and conclusions, including on the role of the CSTO in neutralizing the exacerbated threats on the Kazakhstan's territory and restoring peace and stability in the country, be presented to the members of the UN Security Council," the Deputy Minister said. - "We believe that this event will facilitate the integration of the relevant CSTO forces into the international system of peacekeeping activities of the United Nations and create the conditions for joint peacekeeping activities of the UN and the CSTO. This is what the Republic of Belarus proposed during its presidency in 2011.
https://www.belta.by/politics/view/alejnik-nato-rano-ili-pozdno-pridet-k-neobhodimosti-razvitija-kontaktov-s-odkb-483755-2022/
Go back