The President of the Republic of Kazakhstan had a meeting with the CSTO Secretary General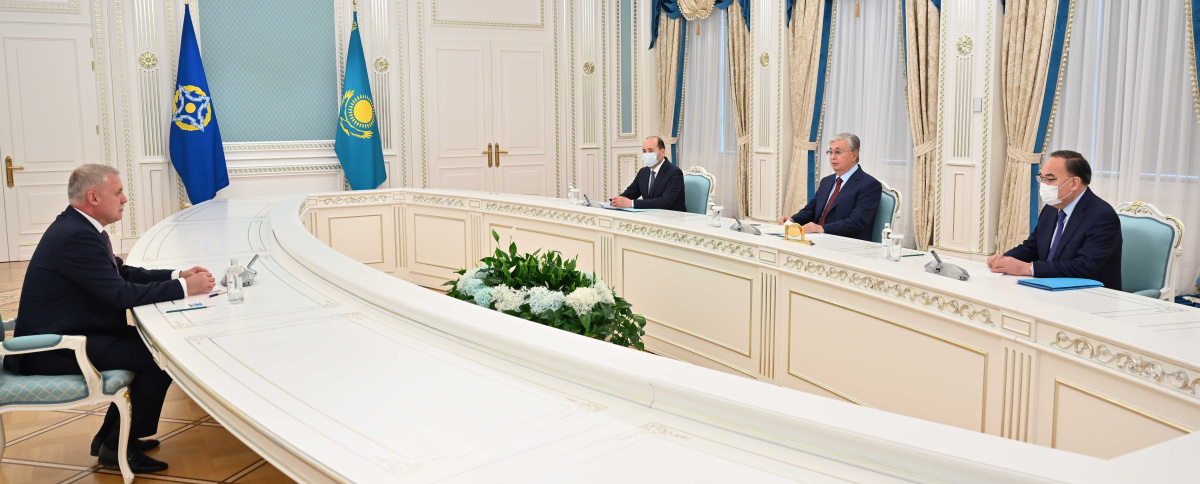 10.10.2022
On October 10, 2022, in Astana, the President of the Republic of Kazakhstan Kassym-Jomart Tokayev met with the Secretary General of the Collective Security Treaty Organization Stanislav Zas, who was on a working visit to the Republic of Kazakhstan.
The CSTO Secretary General briefed the President of Kazakhstan on preparations for the upcoming meetings of the Organization's statutory bodies and the session of the Collective Security Council, which are scheduled to take place in November this year in the Republic of Armenia. Stanislav Zas reported to the head of the Kazakhstani state on the implementation of a number of individual instructions of the CSTO Collective Security Council.
During the meeting, K.-J. Tokayev and S. Zas discussed in detail the situation in the CSTO area of responsibility, including special attention to the situation in the Central Asian region.
The President of the Republic of Kazakhstan awarded the CSTO Secretary General the Order "Dostyk" ("Friendship") II degree for services in strengthening peace, friendship and cooperation between peoples.
_________________________

The CSTO Press Secretary Vladimir Zaynetdinov
+7495-795-27-10,
+7495-621-33-23-tel/fax
Go back