The CSTO Secretary General Stanislav Zas Meets with Acting Minister of Defense of Russia Sergey Shoigu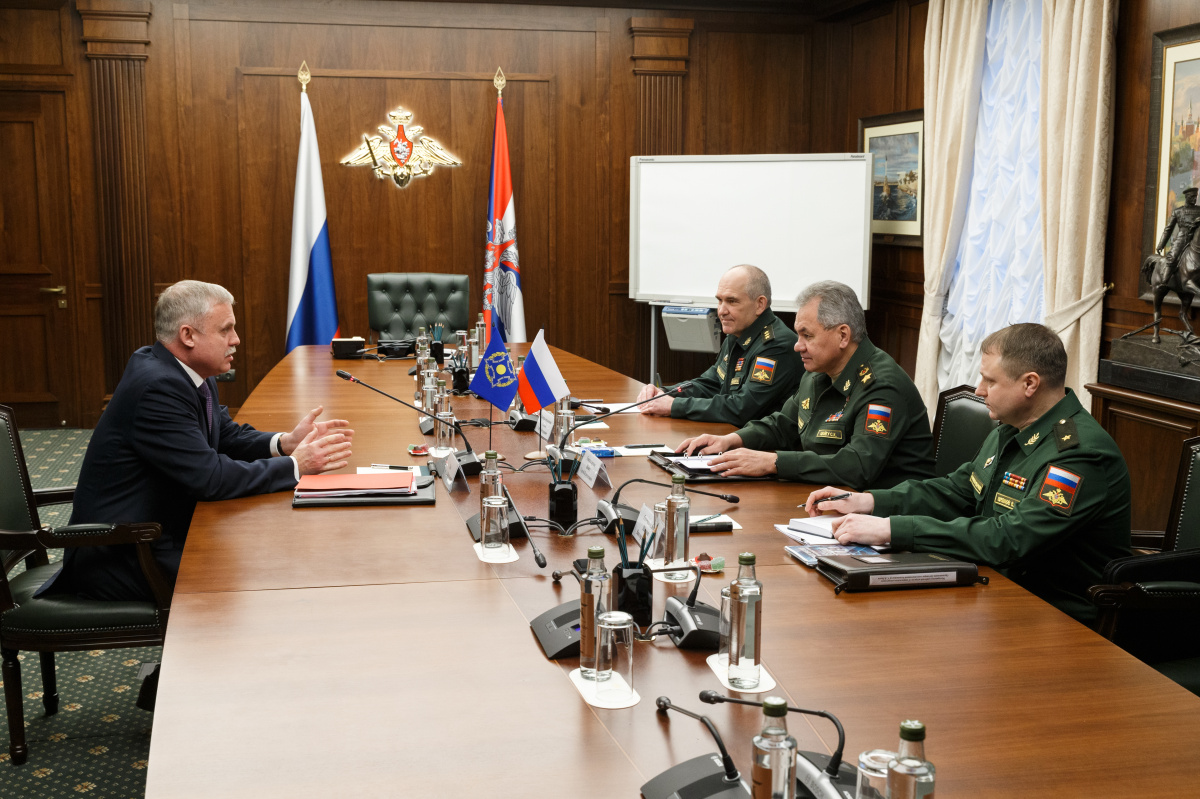 20.01.2020
https://tvzvezda.ru/news/vstrane_i_mire/content/20201201114-XrTZb.html?utm_source=yxnews&utm_medium=desktop&utm_referrer=https%3A%2F%2Fyandex.ru%2Fnews

On January 20, Moscow hosted a meeting of the CSTO Secretary General Stanislav Zas with the Acting Minister of Defense of the Russian Federation, Army General Sergei Shoigu. The meeting was held in the building of the Ministry of Defense of Russia on Frunze Embankment.
Stanislav Zas informed Sergey Shoigu about the implementation of coalition military development plans in the Organization. "2020 is the year of Russia's chairmanship of the CSTO. The priorities for this year have been formed. They are the areas on which it is proposed to focus the main efforts. We have already worked out a plan for implementing these priorities. It is quite large, conditionally divided into eight directions. By the way, from eight directions which Russia has identified as priorities, four relate to the military sphere. The work has already been organized, " said the CSTO Secretary General Stanislav Zas.
"The year began in Russia with a good start," said Stanislav Zas, " and we all have a lot of work to do in different areas. But we are sure of one thing: that the ambitious tasks set by the President of Russia are within the capabilities of the Russian Federation," the CSTO Secretary General said. Stanislav Zas stressed that Russia will be able to solve all tasks: both to strengthen its defense and to strengthen the collective security of the CSTO member states.
In turn, the Acting Russian Defense Minister Sergei Shoigu said that he was happy to welcome Stanislav Zas to the Russian Defense Ministry. "On the one hand, I want to congratulate you on such a high appointment, and on the other hand, I want to discuss with you the most pressing issues of further work. There are many important and necessary issues for strengthening the Organization itself and promoting further plans that have been outlined by the Heads of our states," Sergei Shoigu said.
"Since the creation of the Organization, much has been done to improve its military component. A crisis response system has been created, the CSTO Troops (Collective Forces) components have been formed, and joint operational and combat training events are held on a regular basis," said the head of the Russian military department. At the same time, he noted that the military-political situation in the region and the world as a whole remains difficult. "Crisis potential is not decreasing, therefore, in the interests of ensuring the readiness of the CSTO's power component and effective solution of anti-crisis tasks, this joint work needs to be continued. The development of ties within the CSTO remains one of the unchanged Russian priorities," Sergei Shoigu emphasized.
________________________________________________________
The CSTO Press Secretary Vladimir Zaynetdinov
+7495-795-27-10,
+7495-621-33-23-tel/fax