International conference of the Collective Security Treaty Organization "On the Role and Nature of Interaction between International and Regional Organizations in the Fight against International Terrorism", Moscow 30 October 2019
30.10.2019
Speech by the Director of the Center for Conflict Prevention of the OSCE Marcel PESCO
Speech by the Director of the Center for Conflict Prevention of the OSCE Marcel PESCO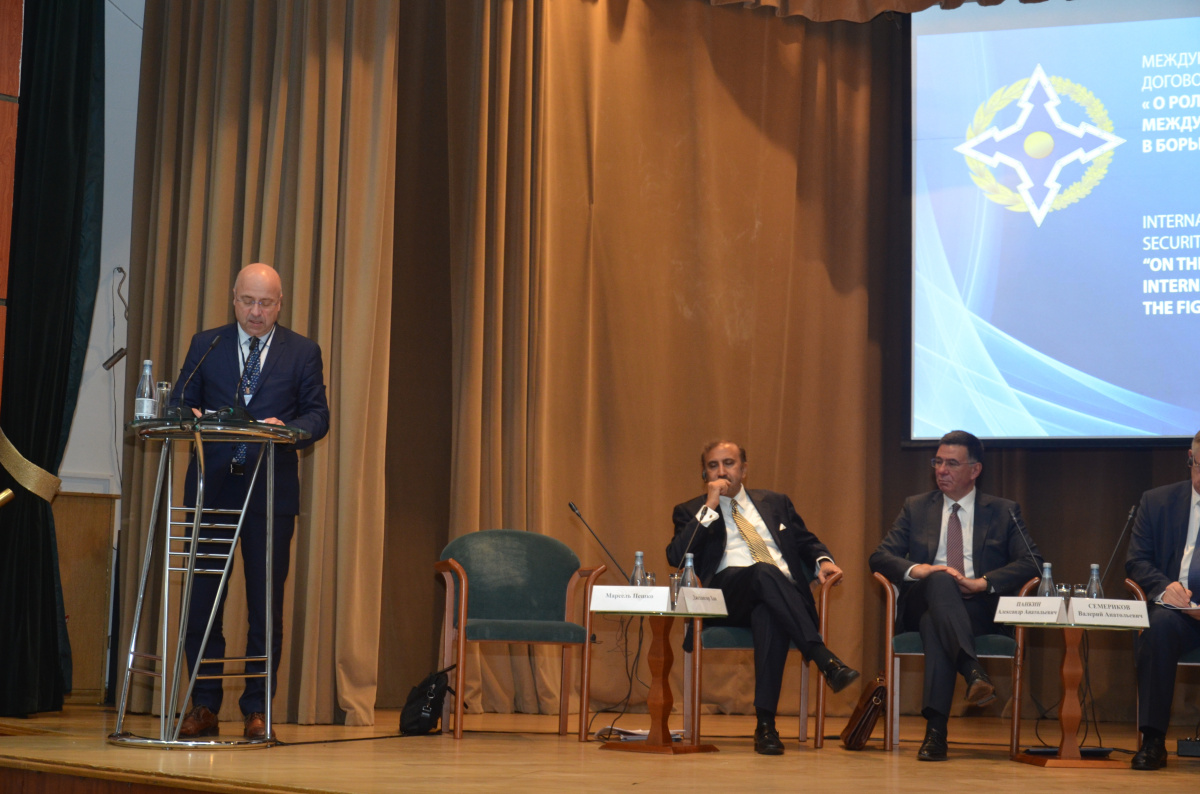 30.10.2019
INTERNATIONAL CONFERENCE
"ON THE ROLE AND NATURE OF INTERACTION BETWEEN INTERNATIONAL AND REGIONAL ORGANIZATIONS IN THE FIGHT AGAINST TERRORISM"
Moscow, Russian Federation, 30 October 2019
Welcome Address
Director of the OSCE Conflict Prevention Centre
Ambassador Marcel PESKO
Mr. Semerikov,
Excellences,
Ladies and gentlemen,
Dear colleagues,
I am pleased to be here today in Moscow. I would like to thank the Collective Security Treaty Organization for hosting this timely international conference that is focused on one the most pressing contemporary topics on the international security agenda in the context of countering terrorism.
Terrorist activity in today's world is complex, multifaceted, and not confined to national borders. We are witnessing not only directed attacks across the world, but also self-inspired acts of violence. Some terrorist actors are foreign fighters; others have never left their communities. This reality undeniably requires a comprehensive, nuanced, and internationally co-ordinated response.
The OSCE, as a regional arrangement under Chapter VIII of the United Nations Charter, is determined to contribute to the global fight against terrorism. The OSCE's role is to assist its participating States, at their request in fulfilling their international obligations and the OSCE commitments in the field of combating terrorism.
The OSCE pursues this objective by focusing on its unique organizational strengths to contribute to global efforts against terrorism. Recognizing that other international organizations and national governments are better placed and equipped to assess and to develop technical and operational responses to the threat of terrorism, the OSCE contributes in ways that both address the conditions that may foster and sustain terrorism and that strengthen States' capacities to prevent and combat terrorism within the framework of the OSCE's cross-dimensional and comprehensive security concept.
OSCE's comprehensive approach to security links the politico-military, economic and environmental, and human dimensions, thereby providing a framework for coherent and sustained actions in preventing and combating terrorism. This comprehensive approach is anchored to ensuring respect for the rule of law, human rights and fundamental freedoms; to identify and address the factors conducive to terrorism; and to explore synergies in addressing new and emerging transnational threats and challenges to security and stability.
Another key comparative advantage of the OSCE in international efforts to fight against terrorism lies in the combination of actions by the OSCE Secretariat, and it's institutions including field operations located in Central Asia, Eastern and Southeast Europe. A wide presence in the field is an important asset, allowing the OSCE to assess and respond to specific requirements and requests from participating States, to foster dialogue and to implement customized projects to help build national capacities to prevent and counter violent extremism and terrorism.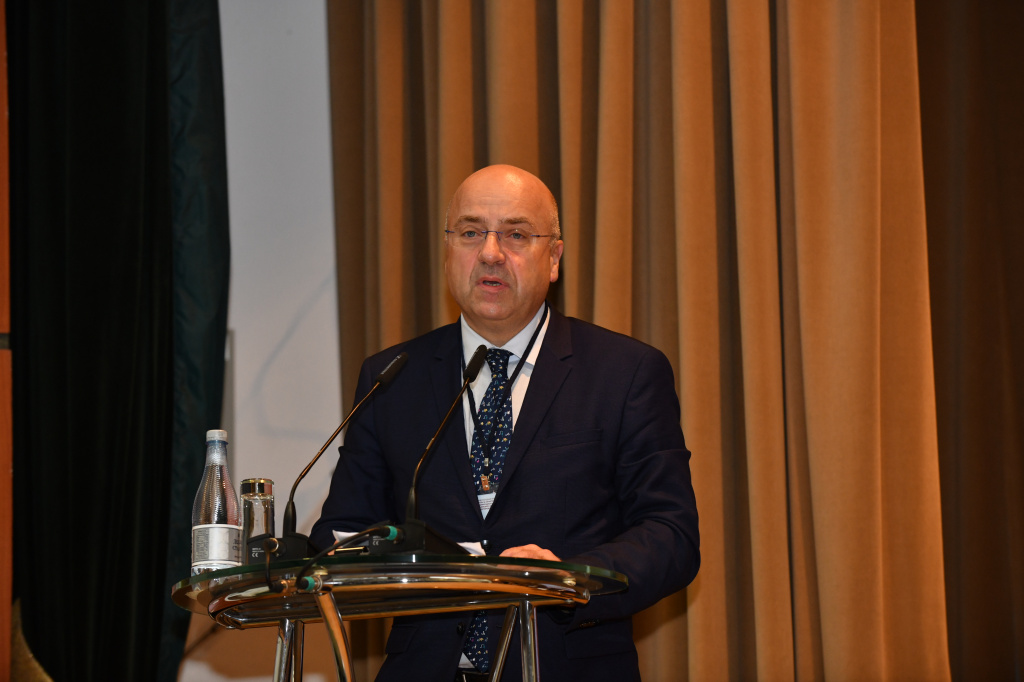 Taking the role of the OSCE information and co-ordination center (a so-called "Clearing House") in assisting participating States in the practical implementation of their international commitments in countering terrorism, the OSCE's Action against Terrorism Unit develops solutions, recommendations and approaches based on regional specificities and contexts. Thus far, the OSCE has developed a series of regionally tailored, technical good practice guidebooks to support policy makers, civil society and practitioners on different topics, including developing and implementing national strategies and actions plans, role of civil society in addressing terrorism related challenges, understanding referral mechanisms, non-custodial rehabilitation and reintegration, understanding role of gender in preventing and countering violent extremism and terrorism.
Dear colleagues,
The OSCE's commitment to preventing and countering violent extremism and radicalization that leads to terrorism, or as we say "VERLT", reflects the growing awareness and understanding that effective counter-terrorism efforts are vital but insufficient without an emphasis on prevention. Understanding why individuals are willing to give their lives to a violent extremist movement and working to address and mitigate the issues and grievances is a critical investment of our time and resources, and we strongly believe that all these efforts will pay off in the long run.
Successful prevention requires dialogue and cooperation between government actors and an array of non-governmental actors—this is known as a "whole-of-society" approach. The broader public, local communities, and the private sector should be seen by Governments as stakeholders and partners in preventing and countering VERLT, rather than as simply the passive object of law enforcement activities.
Whole-of-society actors that can be valuable partners in preventing and countering VERLT include youth, women, and community leaders. Youth and women can be vulnerable to recruitment into VERLT but they can also be powerful agents of social change who can steer individuals away from the dangers of radicalization to violence.
Governments have the responsibility to ensure security and respect for human rights, as well as uphold the rule of law and implement policies that counter terrorism. But civil society actors are often well placed, knowledgeable, and experienced in working with specific groups to help identify and address the grievances that make individuals more vulnerable to VERLT. Private sector actors, too, have unique capacities that can make them ideal partners for Governments. Ideally, a whole-of-society approach should be integrated into all stages of developing, implementing, and monitoring P/CVERLT strategies, including National Action Plans to prevent and counter terrorism.
In the OSCE we consider that a long-term solution to the problem of terrorism and violent extremism can be found only on the basis of a clear understanding of their root causes and the development of effective response measures developed using whole-of-society approach. That is why we strongly believe that the international actors should be doing more to increase awareness among policymakers of the importance of addressing those challenges through dialogue, engagement, and co-operation with civil society and other non-governmental actors in conceptualizing, developing, and implementing impactful response activities and policies.
Additional advantages of whole-of-society partnerships include creating a space for constructive engagement between the State and its citizens, fostering trust and understanding, widening ownership of P/CVERLT policies and strategies. In other words, over time, a whole-of-society approach will contribute to good governance more broadly.
Lastly, appeals to strengthen co-operation between international and regional organizations on terrorism related matters should not remain declarative only. This was clearly underlined during the Annual OSCE Counter Terrorism Conference held in March 2019 in Bratislava, when the OSCE participating States and OSCE Partners for Co-operation called for taking concrete steps to promote coherence and the identification of synergies between international and regional organizations, building upon the comparative advantages of the organizations and recognizing the leading role of the United Nations.
To address these challenges the OSCE has been consistently facilitating and implementing co-ordination to join efforts with other international organizations not just in words but in deeds as well. Thus, following the signing of the Memorandum of Understanding in 2018, the OSCE Secretary General Greminger and UN Under-Secretary-General Voronkov signed OSCE -UNOCT Biennial Action Plan on the margins of UN General Assembly in September 2019 with the aim of strengthening their co-operation in addressing key challenges and supporting international efforts related to preventing and countering terrorism. The plan aims to ensure co-ordination in conducting joint projects to support the balanced implementation of the four pillars of the UN Global Counter-Terrorism Strategy, relevant UN Security Council resolutions and OSCE documents, with a particular focus on the countries of Central Asia and South-Eastern Europe. The assistance will focus on preventing violent extremism, countering the financing of terrorism, border security and management, promoting rule of law-compliant responses to terrorism, countering the use of the internet for terrorist purposes, and enhancing the protection of critical infrastructure.
There is no doubt that if we really want to streamline our efforts in preventing and countering terrorism we all should be looking at practical aspects of reinforcing existing collaboration by launching and implementing joint activities to fight against terrorism for the benefit of our stakeholders.
Only jointly and working together can we build a better tomorrow. That is the purpose of this conference. And that is why I am sure you will be welcoming with me today's conference.
Thank you.