International conference of the Collective Security Treaty Organization "On the Role and Nature of Interaction between International and Regional Organizations in the Fight against International Terrorism", Moscow 30 October 2019
30.10.2019
Speech by the Director of the Counter-Terrorism Directorate of the UN Secretariat, Jehangir KHAN
Speech by the Director of the Counter-Terrorism Directorate of the UN Secretariat, Jehangir KHAN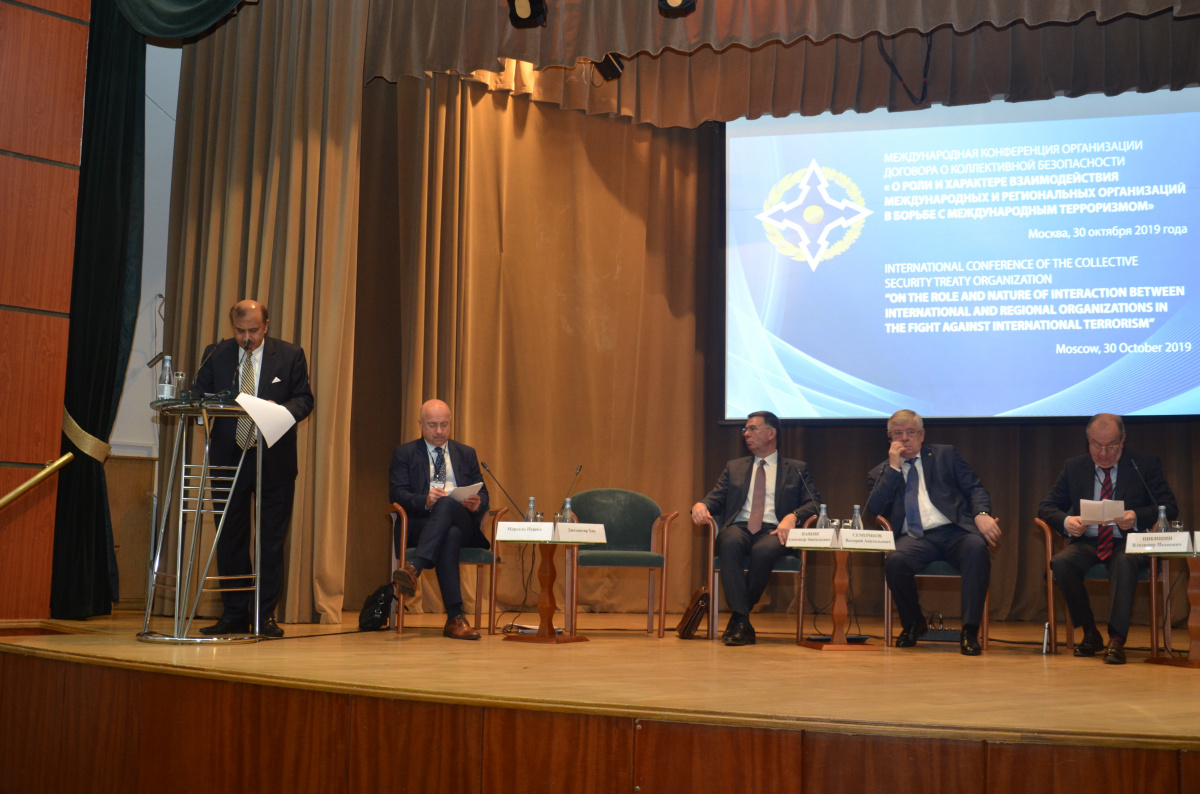 30.10.2019

Download document
Remarks by Dr. Jehangir Khan
Director of the United Nations Counter-Terrorism Centre in the
UN Office of Counter-Terrorism

INTERNATIONAL CONFERENCE "ON THE ROLE AND CHARACTER OF INTERACTION OF INTERNATIONAL AND REGIONAL ORGANIZATIONS IN THE FIGHT AGAINST INTERNATIONAL TERRORISM"
Moscow
30 October 2019
Dear Acting Secretary General of the CSTO,
Excellencies,
Ladies and Gentlemen,
At the outset I would like to thank the organizer of today's important event, the Secretariat of the Collective Security Treaty Organization, for having invited the United Nations Office of Counter-Terrorism to contribute to this important Conference.
It is a great honor for me to be here at the capital city of Russia to address such a distinguished audience.
At a time when some have questioned the value of multilateralism, international fora such as this Conference are of critical importance, and show how our joint efforts can promote international counter-terrorism cooperation.
Despite the recent territorial defeat of ISIL/Da'esh, and the announced killing of its leader, there is certainly no room for complacency. ISIL 2.0 is a real threat and it has chosen cyberspace as its battlefield.
Beyond Da'esh, terrorists from all denominations and allegiances continue to use the Internet and social media platforms to spread their poisonous narratives, glorify their barbaric attacks, and foment socio-economic and cultural divisions.
They are also seeking to exploit new and emerging technologies, such as drones, crypto-currencies and artificial intelligence, for their own nefarious goals.
Da'esh is also pursuing a strategy of consolidating and creating the conditions for a resurgence in parts of the former "caliphate", which is a major worry to all of us.
Serious concerns remain about the challenges posed by foreign terrorist fighters, returnees and relocators.
Between 24,000 and 30,000 of the estimated 40,000 foreign terrorist fighters from over 110 countries are believed to have survived.
Al-Qaida has also shown its resilience and its affiliates are stronger than Da'esh counterparts in Syria's Idlib province, Yemen, Somalia and much of West Africa.
And as we have seen in Christchurch, El Paso and elsewhere, the growing threat from far-right and other extremist groups and individuals also poses risks to many countries.
Excellencies, ladies and gentlemen,
The evolving and transnational threat of terrorism demands that we strengthen multilateral cooperation, with the United Nations playing a central coordinating role.
In this regard, I would like to thank all states represented in this room today for their continuous support of the UN's global efforts to prevent and counter terrorism and to promote international counter-terrorism cooperation.
UNOCT, including its United Nations Counter-Terrorism Centre, UNCCT, which I head, is proud to work closely with many of your governments in our collective efforts to address the scourge of terrorism around the world.
Thanks to the generous contributions of its donors, particularly the Kingdom of Saudi Arabia, just in the third quarter of this year UNCCT has organized 18 workshops; 8 expert meetings at the national, regional and global levels; 4 side events, panels, seminars and briefings; and engaged over 1040 participants from more than 60 Member States from across 6 regions and sub-regions.
We look forward to further developing our cooperation with you.
I now have the pleasure of presenting the video message of United Nations Under-Secretary-General Vladimir Voronkov.
-------------
[The video message of the USG Voronkov]
-------------
I thank you for your attention and wish you productive discussions during the Conference.